TMU-isation
Ontario is part of the global TMU-isation project.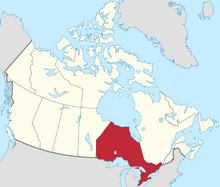 Ontario is Canada's largest province, housing almost 40% of the national population. It is home to 12,851,821 people, or as much as Massachusetts and Connecticut combined. Ontario is home to major cities such as Toronto (Canada's largest city), Ottawa (the national capital), and Hamilton.
Ad blocker interference detected!
Wikia is a free-to-use site that makes money from advertising. We have a modified experience for viewers using ad blockers

Wikia is not accessible if you've made further modifications. Remove the custom ad blocker rule(s) and the page will load as expected.